What is the role of a forward in soccer?
Before answering that question, keep in mind that a forward is any player that plays in an attack position.
In each team, there are forwards, midfielders and defenders. Each of them has a specific role in their team. But today, let's focus on forwards only.
In this article, you are going to learn about the main role of a forward in soccer/football.
What Is The Role Of A Forward In Soccer?
The role of a forward in soccer is to score goals and create goals-scoring opportunities for teammates. The success of a team during a game depends on the performance of the forwards. If there are no goals in a game, it means the forwards have failed to do their job.
Now that you know the role of a forward, let's go deeper into this.
First, let's see who is considered a forward in soccer.
Strikers
Right and left-winger
Attacking midfielder
Those positions are considered forwards in a team as their main role is to score goals and create chances for their team.
Also, read the difference between a striker and a forward in soccer.
Forwards Have To Score Goals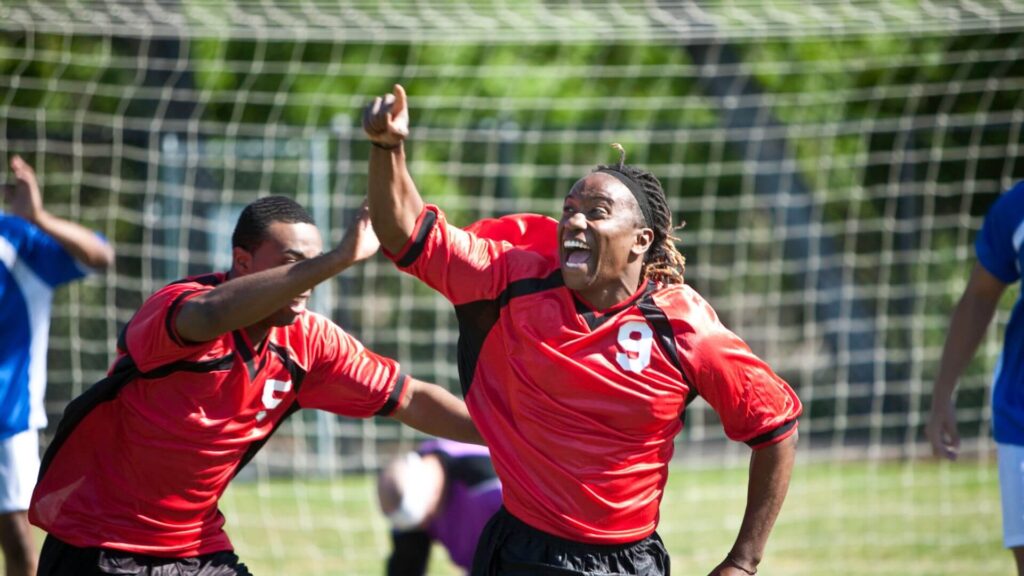 Forwards have to score goals for their team. But scoring goals involves a lot of work, strategies, tactics and skills.
Forwards Work In A Game & Training
Just like every position, the forward position requires a lot of work in training.
In training, forward have to train to score goals and find space to make themselves available to receive the ball every time.
Some of the training consists of forwards playing against their defenders and they have to manage to score as many goals as possible. But, of course, defenders should try to stop them and make the training difficult for them.
During the game, forwards should put into practice what they have learned in training. Note that forwards should have a great connection together. This is very important on the pitch. Having a great connection will make each combination work.
When a team has two or more forwards that understand each other very well, it can be dangerous for the opposing team.
Forward Strategies
Playing as a forward involves a lot of strategies.
Those strategies are put in place by the coach. But the players should also add something personal to it to make it more unique.
For instance, if a strategy consists of using the right wing to fatigue the opposing full-back, the forward winger and the striker should understand each other to combine with success. This means the striker has to know when the winger is going to pass or cross the ball, and where the ball is going to come.
Why do you think C.Ronaldo is always at the right place and at the right time to score goals? This is because he understands his teammates and knows where the ball will arrive.
Forward Tactics
Once again, the coach is the one implementing tactics that players should follow.
The coach may decide to play with a 4-2-2 or 4-3-3 or any other formation. Or he might also decide to play with long balls or short passes to build up play. He can also decide to play a defensive game the whole match and counterattack when the team gets the ball.
So, forward players should know their role and what they are supposed to do when they have possession and when the ball is lost.
For instance, when the ball is lost, forwards should press high on the pitch based on the tactic used by the coach.
Forward Skills
Forwards need to have several skills such as finishing, crossing, dribbling, speed, and reading the game.
Each forward is not required to have all of the above skills. But as a forward, it is important to be a good finisher, run and read the game.
Remember, if there are no goals in a game, this is the forwards' fault because this is their job.
As a forward, you will be trying to score goals and create goal-scoring opportunities. Not achieving this in a game will be considered a failure.
The striker has to be able to finish whenever he/she is on a one-on-one with the opposing goalie. A striker should also be able to win every ball ahead of the defender.
The wingers have to be able to dribble, they have to be fast and good at crossing a soccer ball.
An attacking midfielder has to have a good shot and always has to try to shoot to score. The attacking midfielder should also have a vision and perfect passing skills.
Forward Mistakes To Avoid
Here are several mistakes most forwards make:
1-Some wingers don't take their responsibilities to go on a one-on-one with the full-back. As a winger, you are required to give a difficult time to the defender. But most wingers prefer to pass the ball back.
2-Some wingers do not pass when they are supposed to pass and do not cut in when they are supposed to. As a winger, it is important to read the game and know the right moment to cut in or cross the ball.
3-Most strikers are difficult to pass the ball to simply because they are pocketed by a defender. A striker should make himself available to receive the ball. Strikers should find a way to run behind the defence and request the ball. Strikers do a lot on the pitch with or without the ball, that's why it is considered the most tiring position in soccer.
4-Some attacking midfielders do not make enough attempts to score. The attacking midfielder position gives the ability to easily receive a ball and find a partner to score. Sometimes, this position requires you to strike and score yourself. Unfortunately, some players in that position don't take a shot.
Final Word
The role of a forward is to score goals and create chances to score.
Playing as a forward involves a lot of skills you need to master if you want to be a great forward. Remember, forwards have to score. So, the success of the team depends on you. If a team doesn't manage to score goals, it means the forwards have not done their job properly.
Are you a forward? Or do you want to play as a forward?
Remember, there are several forward positions.
Choose the position you feel most comfortable in and avoid the mistakes given in this article and I guarantee you are going to be a good forward in soccer.
Do you have any questions? Leave them in the comment section below and I will get back to you ASAP.