What is the difference between a forward and a striker in soccer? Is there any?
People are usually confused when they hear the word forward. But this is normal if you are a soccer amateur.
In this article, you are going to learn the difference there is between a forward and a striker. Plus, you are going to understand the types of strikers and forwards in soccer.
Let's get started.
Quick Navigation
What Is The Difference Between A Forward And A Striker In Soccer?
The difference between a forward and a striker in soccer is that a forward can be any player playing in the attacking area. Their main purpose is to create goal-scoring opportunities. A striker, however, is the nearest player to the opposing goalie and his main purpose is to score goals.
A forward is not necessarily a striker. But a striker is a forward.
Let me explain.
The term Forward refers to any attacking player in a team. A striker is part of the attack. Therefore, a striker is a forward.
All the forwards in a team have fewer defensive responsibilities because they are more focused on scoring goals.
Different Types Of Strikers
Here are the different types of strikers you should know.
1-The Target man
A target-man puts more pressure on the centre backs. Because of their physical abilities, they disturb defenders all the time. They win high balls in the air and hold up the ball.
A great example of a target-man is Olivier Giroud.
Keep in mind that this is not the only type of target man. Target men can also drag the centre back along with them and also run behind the defence by using their pace and power.
A fabulous example here can be Lukaku.
A target man is often associated with a smaller striker.
2-Second Striker
When the goalie plays a long ball, he/she is expecting the main striker to win the first ball.
Then, the second striker is expected to win the second ball.
The second striker also uses the target man to have more space. For instance, players tend to focus more on Lukaku, leaving more space for Werner.
3-False 9
The false 9 is a very skilful player with vision, dribbling, scoring ability, and drops deep into midfield.
The advantage of using a false 9 is that it creates huge trouble for opposing defenders. If centre backs decide to follow the false 9, the wingers and others midfield can take advantage of that and use spaces.
A false 9 likes to receive the ball between the different lines of the opposing defence and midfield.
A modern false nine is A.Griezman.
4-Winger
Like strikers, there are also different types of wingers.
A winger is stationed near the touchlines. Their main role is to beat the opposing right and left-back, deliver crosses or cut-backs to strikers, or to beat defenders and score from close range.
If a player is left-footed, they can play on the right side of the pitch and come inside to try multiple long shoots. Robben is the perfect example.
You can read more about the winger position here.
5-Complete Striker
A complete striker is a striker with the ability to dribble, assist, score goals and do what all forwards can do.
Lewandowski is the perfect example.
Types of Forwards
Here are the main types of forward in a team.
1-Center Forward
As we saw earlier in the striker section, the striker role is to score goals, set up teammates, and retain possession.
2-Striker
Very similar to a centre forward, the striker plays as much close to the opposing goalie as possible.
A striker scores goals, make runs behind the defence and is good at finishing.
3-Target Man
A target man is tall and strong, wins balls in the air and scores goals.
4-Second Striker
The second striker plays slightly behind the number 9.
For instance, in a 4-4-1-1 formation.
It is important not to confuse a second striker with a centre attacking or midfield.
A second striker scores goals and is free to roam around, supports the main striker and wins second balls.
5-Wingers
Wingers play in a wide position on the pitch. They try to beat fullbacks, deliver crosses from wide positions, and score goals.
As a winger, you need speed. The fastest winger player is Mbappe.
6-False 9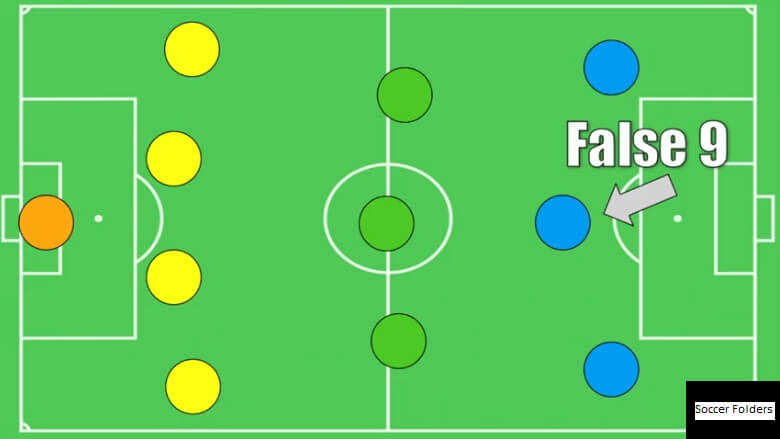 The false 9 is similar to the second striker. He has a great vision, often drops deep into midfield, plays through balls and opens up space.
As you can see, all the forwards are just players participating in the attacking area.
Is Messi A Forward Or Midfielder?
Lionel Messi often plays as a false nine and sometimes as a right-winger. Therefore, he is a forward.
In Barcelona, Messi used to have a free role on the pitch. Meaning, he could do whatever he wanted and be positioned wherever he wanted. He had this responsibility because he was the one that could bring danger to the opposing area most of the time.
Final Thoughts
The difference between a striker and a forward has perfectly been given in this article.
Let's recap, a striker is a player stationed close to the opposing goalie and whose main purpose is to score goals. However, a forward is any player playing in an attacking position. This can be a striker, winger, false nine, attacking midfielders.
I hope you have gained value from this article.
If you have any questions, consider leaving them in the section below.