Why Do Football Players Take Their Medals Off?
Football is an emotional sport full of ups and downs. Players put their blood, sweat and tears into winning games and trophies. So when they lose an important final, it's understandable that they may show frustration by taking off their runner-up medals.
In this article, we'll explore the reasons behind this, look at some examples, and discuss whether players should be criticized for removing medals.
Table Of Contents
Why do Footballers Take Off Their Medals?
There are a few key reasons players take off medals after losing a final:
Disappointment: Coming so close to victory but ultimately falling short leads to immense disappointment. The medal is a symbol of defeat that players want to reject.
Mindset: The competitive mentality of elite athletes is to win at all costs. Finishing second violates this mindset, so players see no value in the medal.
Unfulfilled potential: Players believe they underperformed and could have won with a better effort. The medal serves as a reminder of unfulfilled potential.
Letting fans down: Players take medal removal as a way to acknowledge fans' disappointment and apologize for the defeat.
Notable Examples
There are many instances of players removing runner-up medals after losses in major finals:
2020 Euros: Multiple England players removed medals after losing the final on penalties to Italy at Wembley.
2022 World Cup: Kylian Mbappe took his medal off immediately after France lost the final to Argentina in Qatar.
2019 Champions League: Several Tottenham players removed medals after losing 2-0 to Liverpool in Madrid.
But why did England take their medals off?
England was playing the final at home. So, losing in front of your supporters can be a huge disappointment. This feeling of frustration to take their medals off straight away is perfectly understandable.
Should Players Be Criticized For Removing Medals?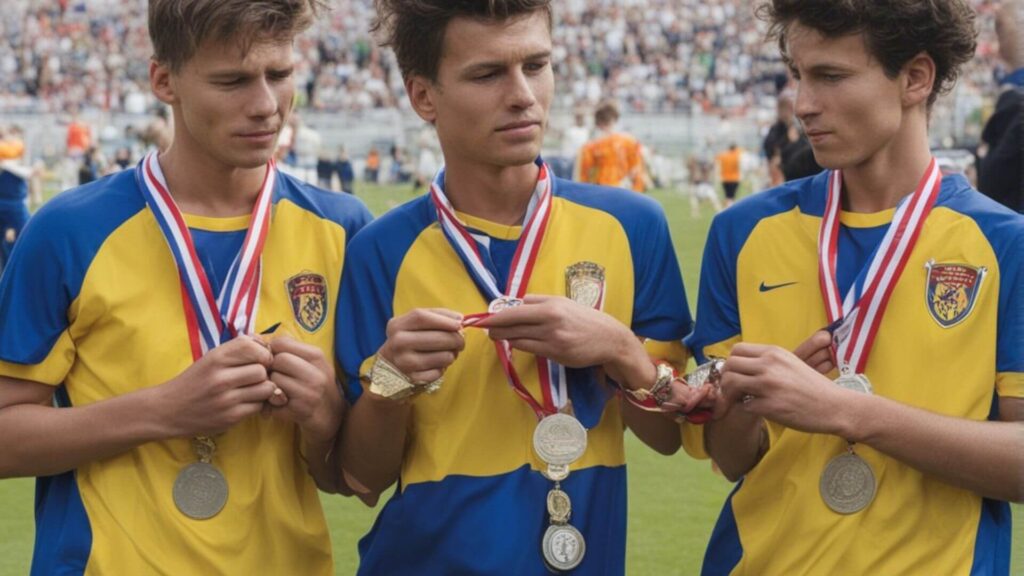 There are arguments on both sides regarding criticizing players who reject medals:
AGAINST:
Emotional response: Removing a medal is an emotional reaction in the heat of the moment after a difficult loss.
Human nature: Players are competitive humans, not robots. Rejecting 2nd place is part of sporting psychology.
Right to grieve: Just like fans, players need space to grieve a painful defeat in their way.
FOR:
Poor sportsmanship: Rejecting medals disrespects the spirit of fair play and the tournament itself.
Role models: As public figures, players should display grace and class, not petulance.
Inspire youth: Young aspiring players may mimic medal rejection instead of graciously accepting losses.
There are good points on both sides. While players' actions can be understood, many argue they should still show class and respect the ceremony.
You should keep in mind that Football players are human beings with emotions just like you and I. They have a big vision and always aim for excellence. They have a long journey from the group stages to the final. Those players play for their families, their fans, and mostly for themselves.
So, being so close to winning the gold and the trophy and then losing it can have a psychological impact on their lives.
They don't deserve to be blamed for taking their medals off.
What Happens to Rejected Medals?
When players take off medals during ceremonies, what happens next varies:
Left on podium/field: Medals often are discarded on the stage, and collected afterwards by staff.
Thrown to fans: Some players gracefully give medals to supporters in a nice gesture.
Kept by player: Though initially rejected, some players opt to keep medals later as a memento.
Donated: Players sometimes auction medals off for charity after tournaments end.
So while impulsively rejected, medals don't necessarily go to waste. They find new homes with fans, charities, or back with the players later on.
Dealing with Defeat as a Player
While medal rejection is mostly symbolic, some perspectives can help players move forward after losses:
Reflect on accomplishments: Reaching the final means you achieved something great already. Be proud.
Keep composure: Stay poised in defeat and congratulate opponents. You'll garner respect.
Gain motivation: Use the loss as fuel to come back stronger and win next time. Set new goals.
Learn from mistakes: Analyze what could have been done better. Strive for improvement.
Appreciate the journey: Not all defeats are failures if you give your all. Enjoy the ride.
Share experience: Talk openly about loss and lessons learned to inspire youth.
The gesture of removing medals is temporary. But building character and mental toughness from defeats lasts a lifetime.
Preserving Tournament Legacy
Tournament organizers also have a perspective worth considering:
Tournament prestige: Rejecting medals detracts from the tournament's competitive legacy. All results matter.
Fair play values: Good sportsmanship and respect should be enforced by organizers.
Fan experience: Fans deserve a dignified medal ceremony, not players sulking.
Youth development: Tournaments are platforms to positively influence young players and fans.
Overall, while losing hurts, rejecting medals should give way to graciousness. Players can express disappointment in other ways.
The Bigger Picture
Looking beyond a single defeat, football has many uplifting stories of overcoming setbacks:
England's long journey: The growth of England from serial underachievers to Euro 2020 finalists.
Iceland's shock run: Minnows Iceland captured hearts by reaching the Euro 2016 quarter-finals.
Leicester's title miracle: 5000/1 outsiders Leicester pulled off the impossible by winning the 2015/16 Premier League.
Liverpool's comeback: After falling 3-0 behind in the 2005 Champions League final, Liverpool staged a dramatic fightback to defeat AC Milan.
The beauty of football is that there are always more opportunities for glory, no matter how disappointing a defeat may feel in the moment.
During any competition final, players from the defeated team tend to always take their medals off.
Today, we are going to answer the question "Why do football players take their medals off?".
Which Players Receive A Medal?
A medal is given to every player, coach, and staff member of teams participating in a final, regardless of whether they win or lose.
The staff is part of the team and therefore, deserve a medal for the job they do in the background.
It would not be fair to only give medals to the 11 players on the pitch.
What Do Football Players Do With Medals They Received?
After receiving a medal, a player may decide to keep it in their museum if they have one, at home, or they might decide to give it to charity.
Some players have museums where they collect trophies and awards they won. A great example is C. Ronaldo who has his own Museu in Funchal, Portugal.
What would you do if you won a medal? Would you keep it, give it as a souvenir to someone you like, or would you sell it?
I am curious to know. So, answer in the comment section below.
How Does The Medal System Work In Major Football/Soccer Competitions?
In the Champions League, European Cup, and FIFA Club World Cup, only gold and silver medals are given to the winner and the defeated team in the final.
However, in the FIFA World Cup, Copa America, and Africa Cup of Nations, three medals are given: Gold, silver and bronze.
This is because those competitions have a third-place match that takes place between the teams that have been defeated in the semi-finals.
For instance, during the 2020 Copa America, Brazil defeated Peru in the first semi-final and Argentina defeated Colombia in the second one to reach the final.
In this case, Colombia played against Peru for the third-place game.
Now, if you want to know why there isn't a fourth medal, well, this is how the system has been set. Plus, even in the Olympics, the same system is applied, only three medals are given.
Anyways, this includes all sports in the world.
Final Thoughts
If you play football, you should know how devastating it is to lose a simple game. Now imagine losing a final.
That feeling does not only take place with professionals. Sunday league players feel the same after losing.
Losing hurts at the highest level of football. While medal rejection has drawn criticism, it's an emotional reaction in a painful moment that can be understood. Players face immense pressure and expectations at major tournaments.
But with the right perspective, coming up short in a final can provide an experience to learn from. Growth happens when we embrace defeats and resolve to improve. Rejecting medals stings temporarily, but perseverance and grace, in the long run, are what truly matter.
I hope this article has enlightened you about why football players take their medals off.
Would you take your medal off if you were losing a finale?
If you have any questions, consider leaving them in the comment section below.
---