If you are an amateur looking to know the easiest position in soccer, you are in the right place.
Every soccer position requires a different skill, and some are easier to master than others.
However, some positions can be considered easy for some and difficult for others.
In this article, you are going to find out which position is the easiest in soccer. I am also going to answer some of the most common questions people tend to ask.
Let's get started.
Quick Navigation
What Is The Easiest Position In Soccer?
The easiest position in soccer is the centre back(CB). Unlike the rest of the team(except the goalie), the central defender doesn't need too many skills. All he/she needs is to prevent the opposition from scoring goals.
Although it can sometimes be difficult to stop a skilful forward, a physical and fast defender can do it. All a centre back needs is to use his physical attribute to his advantage and chase the forward to prevent him from scoring.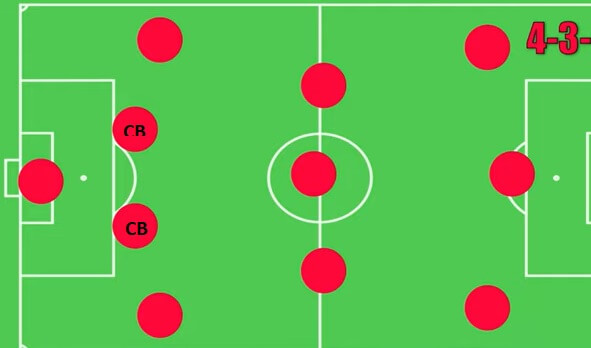 But, of course, this doesn't stop there. A centre back should also be able to read and analyse the opposing attack and know how to properly defend without diving anyhow.
As mentioned earlier, a central defender doesn't need technical skills, all they need is to get the ball from the opposition and clear it away.
Even though a central defender oftentimes faces very skilful strikers who might give them hard times, it's nothing compared to what other positions require.
Now you are probably wondering, what about the goalie?
Well, playing as a goalkeeper is more difficult than defending.
The goalie is the one protecting the goal. He is the last one to beat after the defence. They have to jump to catch the ball from one angle to another. A goalie has to stop difficult and very powerful shots.
Also, the penalty kick is a very difficult and stressful moment for a goalie because the whole team is counting on them to make a save.
Although the goalkeeper doesn't need too many skills either, never underestimate his job.
What About The Striker?
Playing as a striker is one of the most difficult positions in soccer.
If there are no goals in a game, fans will blame the strikers. Plus, strikers need to be good to beat opposing defenders and score goals. If a striker doesn't score for two consecutive games, the pressure starts growing.
This can not be considered an easy position.
What About The Midfield?
The midfield is the most difficult position in soccer.
A midfielder is a mediator between the defence and the attack.
The midfield is the area on the pitch that touches the ball the most. If a team doesn't have good midfielders, they are going to lose the ball possession and may end up losing the game-
What About The Winger?
Playing as a winger is one of the hardest positions in soccer.
A winger is a player running the most on the pitch. Hence playing as a winger requires stamina, speed, and good crossing abilities.
What About The Full-Backs?
Although full-backs also play in defence, their wide positions make things harder for them as they have to attack and defend throughout the game.
Modern full-backs are encouraged to attack the majority of the time. Some of them have become better at attacking than defending because of their high attacking responsibilities.
Examples are Marcelo, Hakimi, Alphonso Davies and many others.
All that those players have in common is their ability to run and serve their forwards, but also drop back to defend.
What is the least important position in soccer?
What Is The Least Important Position In Soccer?
There is no such thing as the least important and most important position in soccer. Each player has great importance on the pitch. Every team needs a striker, midfielders, wingers, defenders, and goalies. They all have a great impact on the pitch.
There is a reason why there are several positions in soccer. All positions are needed, and a team can not be complete without all of them.
Although it's almost impossible to determine the least important position, however, we 100% know the most important position in soccer.
Where Do You Put Your Weakest Player?
Putting the weakest player in a game depends on the tactic you want to play with. If your weakest player is a midfielder, but you want to control the game and have the possession, then you will have to bench your weakest player unless they can play in a different position.
If you are playing a Sunday league game and do not have a tactic implemented, you can put your weakest player based on the opposition's weakness-
For instance, if the opposition is weak on the wings, you can put your weakest player as a back winger. This will ensure that your weakest player won't have a hard time during the entire game.
You can also read my full article about where you should put your weakest player.
What Position Should I Choose For Soccer?
What position should you choose for soccer? Well, defining your position depends on your skills. If you are a good finisher, then the striker position may suit you. If you are very fast with dribbling and passing abilities, then the winger position may suit you.
It is important to look at your skills before defining your position.
If you are not able to define your skills, ask your friends to be honest and tell you what your strengths and weaknesses are.
Sometimes, having other people's opinions is best for us.
Also, if you are not able to determine your position, then you have to test. Whenever you are playing with your friends, try to play in different positions and see which one is much better for you.
If you realize that you are happier playing in a specific position than the others, then this position might be for you. But, don't forget to analyze and see if you have what it takes to play in that position.
The Most Fun Position
Once again, the most fun position should be the one where you feel most comfortable playing. If you are a defender and feel very happy and excited to defend, then it should be a fun position for you-
Remember, this is like blogging. People blog about what they are passionate about.
So, You should also play in a position you are passionate about.
For example, if you are passionate about scoring goals, then you can play in the attack.
4 Skills You Need To Be Successful At Soccer
Here are four skills you need to be successful at soccer:
Passing the ball. Passing is the first thing you need to learn in the soccer world. So, make sure to master it.
Shooting. This is one of the most important skills. Some strikers only know how to shoot and score goals.
Control the ball. This is one of the basics.
Juggling a soccer ball. No matter what position you play, it is important to know how to juggle a ball.
Is Playing Soccer A Talent?
Yes, playing soccer is a talent. You can not 100% learn how to play soccer in an academy. Contrary, what you can learn in an academy is the positioning and tactics. But when you are talented in soccer, it means you are born with it and you can learn more about the skills only by watching soccer on TV, then implement that perfectly on the pitch.
I remember when I was a kid, I started playing soccer on my own. Then, learned all the skills by watching games on the TV, and finally learned the positioning and tactics in an academy. I had passion and talent.
L.Messi started playing soccer because he was talented.
How Do You Know If You Are Talented In Soccer?
If you want to know whether you are talented or not in soccer, you need to play tournaments often in your local area. This will help you determine if you can perform consistently and also what others think about you. You can also know if you are talented by reproducing all that great players do. If you manage to do some of them on the pitch, then you are talented.
Final Word
As you saw from this article, playing as a centre back is the easiest position in soccer.
Some people may have a different opinion about this, but this is what I love about soccer, everyone can give their opinion depending on their experiences.
Whether you play forward, midfielder, winger, defender, or goalkeeper, each position has a huge impact on any team. No team can be complete without any of them.
So, value every soccer position.
Did you learn something new today? What should be considered the easiest soccer position in your opinion? What is your favourite position?
Let us know in the comment section below.