What is the hand of God in soccer?
You have undoubtedly heard of the world-famous expression "Hand of God" and now you want to know what it is. Good for you, you are in the right place.
In this article, you will learn everything there is to know about the hand of God in soccer. More importantly, you will find out why it is called that.
What Is The Hand Of God In Soccer?
In soccer, the hand of God refers to a goal scored by Diego Maradona in 1986 during a game between Argentina and England. During that game, Maradona scored a goal using his hand, and he later said during an interview that it was the hand of God.
Since that day, this expression has become famous and during the last decades, we have seen many players try to score the same goal. Some even managed to do it. I will talk about it later in this article.
Today again, England people can't forgive Maradona for what he did and it's understandable, especially when he couldn't admit it was an anti-game.
You are probably aware that only the goalie is allowed to touch the ball with his hands on the pitch. Therefore, this Maradona goal should have been disallowed.
You can also read: Can you use your hands in soccer?
But how come nobody saw this during the game? You are wondering.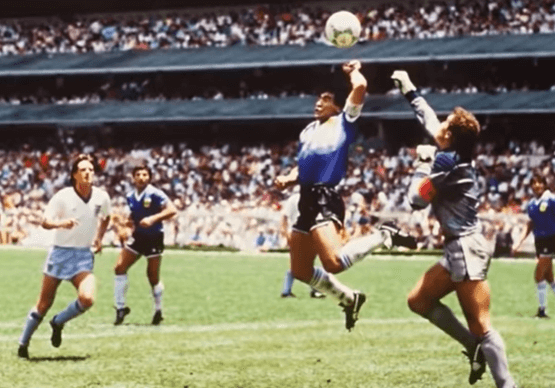 Well, England's defenders saw what happened and tried to notify the referee but in vain. Plus, the game took place in 1986, meaning there was no VAR and recent technology like the ones we have today. Otherwise, the goal would have been disallowed.
What made Maradona use his hand rather than his head? You are also wondering.
Well, as shown in the image above, Maradona was only 165cm and tried to jump and header the ball. But he realized that he couldn't reach it. Therefore, his instinct had him use his hand. Luckily for him, the ball went in.
After that game, Argentina defeated Germany in the finale, which allowed them to win the world cup.
Here is a list of players that replicated Maradona's hand of God not only to score but also to save a goal:
Players That Scored With "Hand Of God" And Got Away With It
1- Messi
Messi score using his hand back in 2007 during an important game between Barcelona and Espanyol. When the cross came in, Messi didn't hesitate to use his hand when he realized he couldn't make it with his head.
Luckily for him, the goal was allowed.
2- Raul Gonzalez
During a group stage fixture between Real Madrid and Leeds United in 2001, Raul slammed the ball into the goal post with his hand. Despite the protests of Leeds players, the goal stood.
3- Raul Ridiaz
Raul Ridiaz scored a goal with his hand during a game between Peru and Brazil. Luckily for him the goal was allowed.
Players That Scored With "Hand Of God" & Goal Disallowed
1- Paul Scholes
In 2008 during a Champions league game between Manchester United and St Petersburg, Scholes scored a goal with his hand. Unfortunately, it didn't end well for him. He got booked a second times, followed by a red.
2- Sergio Kun Aguero
During the 2014 world cup qualifier fixture between Argentina and Peru, Aguero attempted the hand of God but he got booked(yellow card).
3- Miroslav Close
Close scored a goal with his hand during a game between Lazio and Napoli in Serie A. The goal got disallowed.
Players That Prevented A Goal With Their Hand
1-Luis Suarez
During the 2010 world cup quarter final between Uruguay and Ghana, Suarez stopped a goal-bound shot with his hands. This happened in the last minute of extra time.
That save cost Ghana the semi final spot because although they were given a penalty, they missed.
2- Steven Taylor
Taylor stopped a goal with his hand in a manner that a goalkeeper would be proud. It was a premier league game between NewCastle and Aston Villa.
Obviously, he was sent off.
So, many players replicated Maradona's hand of God their own way, some were lucky, others not.
Final Word
Maradona is the creator of the famous "Hand of God". He is considered one of the best soccer players of all time.
He was known for breaking the rules on and off the pitch, and one of them was this famous hand of God goal during the 1986 world cup.
Despite his controversial career, Maradona was a great soccer player and a great person that the world will never forget.
I hope you have gained value from this article.