What do coaches look for in strikers? If you are here today, chances are you are a striker and you want to make sure you have what it takes to be picked by a coach.
Well, you are in the right place.
The striker is the most tiring position in soccer and there is a reason for it. This position requires several attributes that every striker should have to dominate the game.
In this article, you are going to find out 5 things coaches look for in strikers – At the end of this article, you will be well-equipped to impress any coach.
Let's get started.
What Do Coaches Look For In Strikers?
Here are 5 things coaches look for in strikers:
How mentally tough are you?
Can you score goals
How well are you in the tight space
Are you moving a lot on the pitch
Confidence
Note that these are the main attributes every coach is looking for in a striker.
1-How Mentally Tough Are You?
As a striker, you are expected to score and miss a lot of chances in games.
But, how tough are you to handle the pressure? You have to understand that if there are no goals in the game, you are going to be the first person to blame because this is your primary role.
The striker is the most criticized player in soccer/football.
So, you have to be mentally tough to deal with critics and judgements from coaches and others players and fans.
If you don't score for a couple of consecutive games, you need to keep your head up and keep working hard. Don't get disappointed to the point to give up.
Remember, coaches will put you in a position to fail. You have to show them that you are mentally stronger and prove them wrong.
If you do it, coaches will start to trust you because they will see in you someone that doesn't give up.
Do you watch professional players and strikers like Lukaku, Ronaldo, Lewandowski, and so on? They have all been criticized one way or another when they didn't score for two or more consecutive games.
But, they never get disappointed. Rather, they work harder to prove everyone wrong. Plus, after proving everyone wrong, do you know how they celebrate their goals?
This is how they get respect from their coaches and fans.
So, go out there and get mentally ready.
2-Can You Score Goals?
The main role of a striker is to score goals. It doesn't matter how many goals you can score. But you need to score.
Coaches want strikers that can score goals. Plus, they want strikers that can be consistent in the number of goals they score.
That's not all, coaches will want to make sure you can score against high calibre opponents. That's how they will be sure you are the right fit for the team.
Sometimes, they will put you in a bad position in a game to make sure you can still find a way to score a goal.
Also, you have to be able to score at any angle and with both feet. As a striker, you will often find yourself surrounded by two or more defenders and in difficult situations. But this shouldn't prevent you from finding a way to shoot.
So, make sure to work on your finishing from any angle.
3-How Well Are You In The Tight Space?
As a striker, playing in a tight space means you have to be physically strong to hold the ball.
If a teammate is passing you the ball on the ground, you get touched and you fall easily, chances are you are not going to find yourself in that formation for long.
Take an example from Lukaku. He rarely falls when he gets touched. Plus, he knows how to properly cover his ball in tight spaces. You have to watch some of his tutorials and learn from this amazing striker.
Benzema is also good at playing in tight spaces. This is why he can sometimes be confused with a playmaker.
Again, you should learn from those two strikers.
4-Are You In Constant Movement With & Without The Ball?
As a striker, coaches are going to watch your movements on the pitch.
A striker movement is very crucial because it determines how well you can be available to receive passes.
Your ability to move is going to mean everything because you are the one in charge of creating opportunities, finding holes in defenders, finding the striking channels and being able to stretch the defenders out wide, pivot and come back around.
However, if you are static, standing and always expect the ball to come on your feet, coaches will look away.
That's why the most successful strikers on the planet are the ones with a lot of movements and are the most physical.
So, make sure to be in constant movement on the pitch and make yourself available for your teammates to pass you the ball.
You can also read the skills forwards need to learn more about the movements on the pitch.
5-Confidence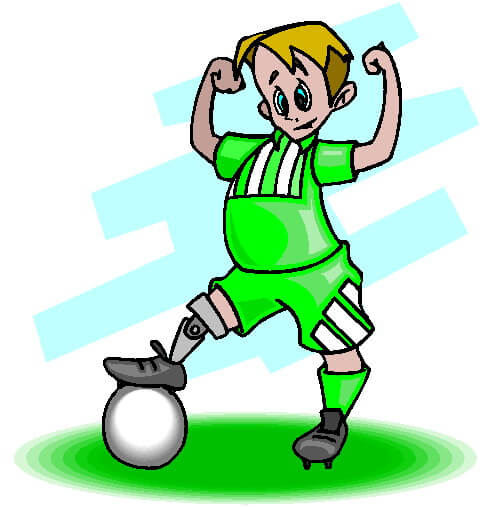 Are you confident enough?
As a striker, you have to reassure the coach that you can score at least one goal.
If you are not confident, coaches might look away.
Keep in mind that confidence is different from being arrogant.
The purpose here is to be confident. If your team is losing a game, you have to be confident that you can come back to the score and potentially win.
Some great players with high confidence are C.Ronaldo, Ibrahimovic, Mbappe, Suarez. All those players have in common is their confidence to equalize or win a game.
For instance, during the 2019 UCL knock out stage between Juventus and Atletico Madrid, the score was 2-0 for Atletico Madrid. Before the second leg, C.Ronaldo promised Juventus fans that they will qualify to the next stage… And they did it.
This was some great amount of confidence from C.Ronaldo.
So, you should do the same.
Here is a secret: Coaches like confident strikers.
Even if you are not sure you can score, show everyone your confidence to do it.
Final Word
At the end of this article, it should be remembered that what coaches are looking for in strikers are confidence, your ability to score goals, your movements on the pitch, your ability to play in tight space and how mentally strong you are to deal with pressure.
If you are a striker, consider yourself lucky for finding this article.
Now, it is time for you to take action.
Go out there and implement what you have learned today.
I hope you have gained value from this article.
If you have any questions, consider leaving them in the comment section below, and I will get back to you ASAP.
You can also read my full article about the striker position in soccer here.