Can you play soccer in the rain?
Before answering that question, keep in mind that playing in the rain is so different from playing outside when it's sunny and dry. If you are a soccer lover and have already experienced that feeling of playing while it's raining, you must certainly love it.
However, if you are new to this and are still wondering whether it is possible to play in the rain, this article is right for you.
Let's get started.
Quick Navigation
Can You Play Soccer In The Rain?
Yes, you can play soccer in the rain, in the snow and when it's very warm. There's no specific weather to play soccer/football. As long as you love soccer, the weather won't matter much. Plus, playing in the rain is much more fun and enjoyable.
Whether you are a pro or amateur, playing in the rain has the same feeling.
It might be a bit different for professional players because the rain can reduce their capacity.
But if you are an amateur playing in your city with your friends at a rainy weekend, or during a Sunday league game, there is nothing greater than that.
Tips For Playing Soccer In The Rain
First of all, when it's raining the pitch is going to be a bit fast and slippery than it would normally be. This means that you should simply let the ball do the work for you because it's going to move faster on the surface.
My second tips are to shoot the ball low because the pitch is extremely fast.
Use a proper soccer boot, preferably a synthetic one instead of a leather one. In the rain, your traction and your grip on the ground goes out the window, meaning you might risk losing your stability.
Bring two pair of socks. Having a second pair of socks will help you keep fresh. There is nothing better than switching from a complete wet pair of socks to a dry one.
Improve your ball control. There's nothing worst than feeling that you are not in control of the ball just because it's too slippery. So, mastering your ball control might help a lot.
Don't keep your boots in your bag after playing or training. Keeping your boots outside after a soccer game will prevent them from stinking but most importantly, dry faster.
Dry your boots naturally. Put some piece of newspapers inside to absorb the water.
Are Soccer Games Cancelled For Rain?
Even though playing in the rain can be hard, it is very rare to see a soccer game being cancelled because of it. It might happen during professional games but depending on how bad the weather really is.
However, during an amateur or what we called "Sunday league", a game is never cancelled because of rain.
During Sunday league, the rain seems to make it more enjoyable for players. No matter where you live in the world, playing soccer in the rain is always a joy, funnier and greater.
Is Playing In The Rain Bad?
During a professional soccer game, playing in the rain can be a huge disadvantage and therefore bad because players might not use their full potential. They might be limited in terms of speed, techniques, etc due to the bad conditions of the pitch.
Also, big football clubs tend to play really well when the pitch condition is perfect. Whenever the pitch has deteriorated, those teams seem to be stuck and have no idea how to control the game.
However, during an amateur game players do not care so much about the weather conditions because they only want to have fun no matter the final score. In this case, playing in the rain isn't necessarily bad.
Contrary, it is fun. Imagine running on the pitch and keep sliding with your friends, making perfect tackles on the wet grass while laughing. Those are the best moments in amateur soccer.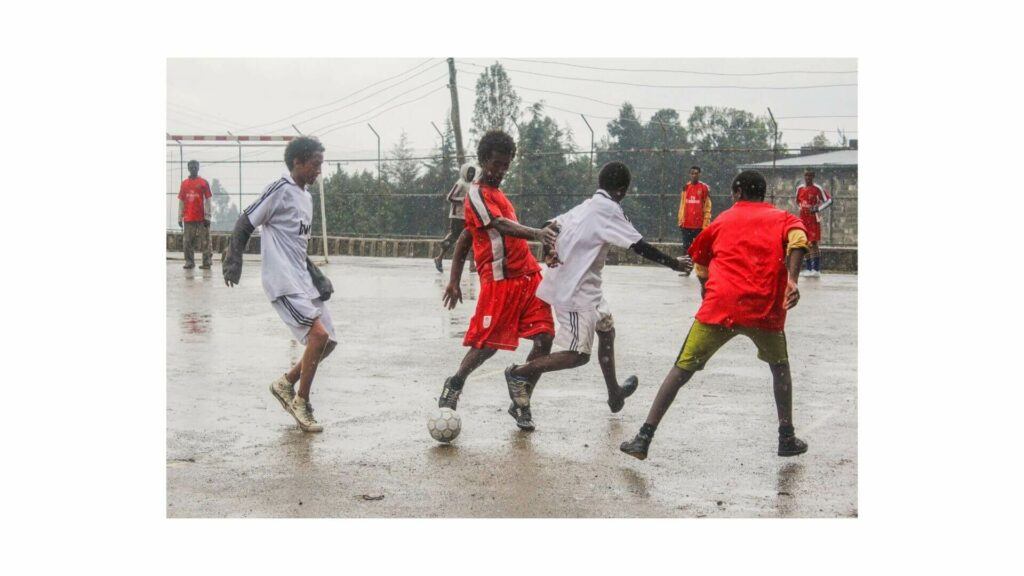 What Do You Wear To Play Soccer In The Rain?
There is no proper kit or jersey to wear when playing soccer in the rain. In fact, you shouldn't make it complicated.
Your main focus should be on the boots. Make sure it's a synthetic one. Remember, the grass is going to be slippery. So, having a proper pair of boots will ensure the perfect stability and control of the ball.
Some might prefer a long sleeve shirt instead of a short one. But it depends on your preference.
My Personal Experience While Playing In The Rain
I remember back in the days, some would probably stop everything and go back home. but we were there on the pith while it was raining. The rain seemed to motivate us even more.
The tackles were coming from everywhere. Yes, when it rains, we all want to slide tackle the ball every time.
And when you score a goal, you run all the way and slide to celebrate.
Sometimes when you pass the ball, it doesn't go through due to the pitch bad condition. It is a total mess, but the feeling is absolutely amazing.
Of course, if you are not so careful, you might end up injured.
If you have never experienced that feeling, I urge you to do so.
Final Thoughts
It is absolutely possible to play soccer in the rain whether you are a pro or an amateur. As long as you love the game, nothing will bother you.
If you are a soccer amateur, make sure to use the tips given in this article. This will make your experience better.
Do you play soccer in the rain? Do you have any other tips for playing soccer in the rain? Don't hesitate to share it in the comment section below. Someone might benefit from it.