What do scouts look for in a winger?
First thing first, clubs hire scouts to look for specific players that meet the criteria the team is looking for. If a team needs a winger, the scouts will take care of it and make sure to find the best possible one.
But what do scouts look for in a winger? What would the perfect winger have to be picked up by scouts?
Let's find out now.
What Do Scouts Look For In A Winger?
Here are 7 things scouts look for in wingers:
Speed
Technical ability
Passing and crossing ability
Vision
Movement
Positioning
How comfortable are you in the wings
1-Speed
The first thing scouts look for in a winger is how fast the player is.
A winger must be fast as he will be running the entire game on the wings. So, when scouts approach you, they want to make sure you have pace.
Pace will allow you to outrun the opposing defenders and run behind the defence. It is almost impossible to play the winger position if you have no pace.
If you look at some of the best wingers like Leroy Sane, Salah, and Serge Gnabry, they are almost impossible to catch up and mark. This is because those players have something in common, which is pace.
So, if you are a winger and want to be scouted, make sure to have speed.
2-Technical Ability
The second thing scouts look for in a winger is technical ability.
Everything is not just about pace. You can be a fast player without knowing to dribble or control the ball.
So, you should not just rely on your pace. You should also make sure to be technical with the ball.
As a winger, you are going to face fast defenders. Sometimes, just relying on your pace wouldn't be enough. But if you can dribble, this is a huge advantage.
If you lack some technical abilities, don't worry. You can still get scouted as long as you have the next attributes we are going to talk about.
But, improving your technical abilities will give you a huge advantage.
3-Passing And Crossing Ability
You have pace and you can dribble. But what next?
Say you receive the ball on your wing and you managed to get rid of the full-back. What next?
Well, you have two options: You can either cut in and score yourself or you can simply cross the ball for your striker.
Knowing how to cross the ball will give you a huge advantage as a winger.
Remember, the first job of a winger is to run and cross the ball to the strikers in the box.
Although modern wingers tend to cut in to score themselves, this wasn't the first goal of this position.
So, if you only have pace and can perfectly cross the ball, these two are enough to get scouted. They are the most two important elements every winger should have.
4-Vision
As a winger, it is also important to have vision on the pitch.
Having vision will allow you to easily see your available teammates and pass the ball to them.
Although this is not as important as the previous one, it still needs your attention and will be a plus when scouts see you.
5-Movement
Many scouts will analyse your movements on the pitch and this will determine how well you can do.
As a winger, you have to know how to move on the pitch. You have to understand the basics of the movements on your wing.
So, how do you move and make yourself available to receive the ball? Do you always look around your area?
You have to move to create space. And the best way to do it is to come back to the ball and create a passing lane.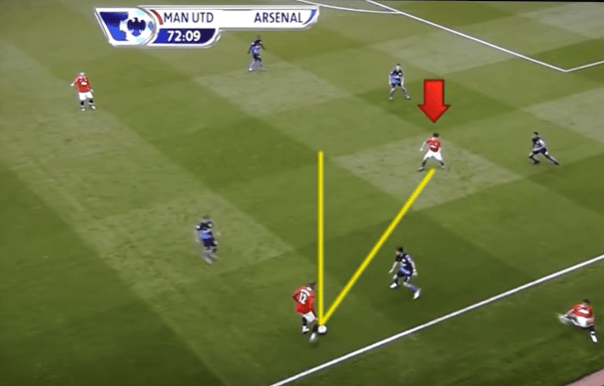 You can also create space by changing direction and changing your speed.
This is what you should always be doing as a winger.
6-Positioning
Movement and positioning are crucial for any player.
As a winger, you have to stay between the defenders and not hide behind them.
In the pic below, see how the player receiving the ball is making it easy for the ball holder.
This is exactly what you should be doing in your positioning, make yourself available to receive the pass.
Keep in mind that a winger shouldn't just stay wide and in the opposition's half of the pitch. A winger should also drop back from time to time.
Scouts are going to look at your positioning. So, make sure to work on it.
7-How Comfortable Are You On The Wings?
As a winger, it is important to have all the necessary skills, but how comfortable are you playing on the wings?
If you are not comfortable playing wide, then it doesn't matter how skilful you are, something will always be missing.
With that being said, make sure you love to play as a winger.
Final Thoughts
Scouts look for speed, technical and crossing abilities, vision, movement, positioning, and how comfortable you are when playing on the wings.
If you are wondering whether it is possible to have only 2-3 of these elements and still get scouted, well, yes.
The most important attributes of a winger are speed and your crossing ability. Make sure to have those two, then you can improve the rest later.
I hope you have gained value from this article.
If you have any questions, consider leaving them in the comment section below and I will get back t you ASAP.
You can also read my full article about the winger position.